Fourth International Seminar on Complementary Therapies

Fourth International Seminar on Cancer Management Through Complementary Therapies
On World Cancer Day - 4th February 2006,
Hyderabad. India

Theme

"Role of Yoga & Nutrition in Cancer Management"

AM Charitable Trust organized 4th International Seminar on "Cancer Management through Complementary Therapies" on the occasion of the World Cancer Day on 4th February 2006 at Hyderabad. India. This year theme of the seminar was "Role of Yoga & Nutrition in Cancer Management" This Report summarises the Proceedings of the Seminar. We draw the special attention of readers to the Declaration of the Seminar, as finalised in the Concluding Session. Details of the addresses of the speakers and their presentations are separately reported in the Souvenir and our website.

SEMINAR PROCEEDINGS

Inaugural Session

Padmasri Prof. Kakarla Subba Rao, Patron of the Seminar welcomed the gathering and explained the importance of synthesizing the modern and ancient medicines and practices towards not only improving prediction and rate of cure of cancer, but also in reducing the physical and mental agony of the patient and their close ones. He further stressed the importance of validation of the different kinds of therapies, proper diagnosis, and importantly long-term post-treatment follow up with proper biochemical validation. He asked all doctors from various systems of medicine to be open minded and encourage integrative approach towards safer management of cancer.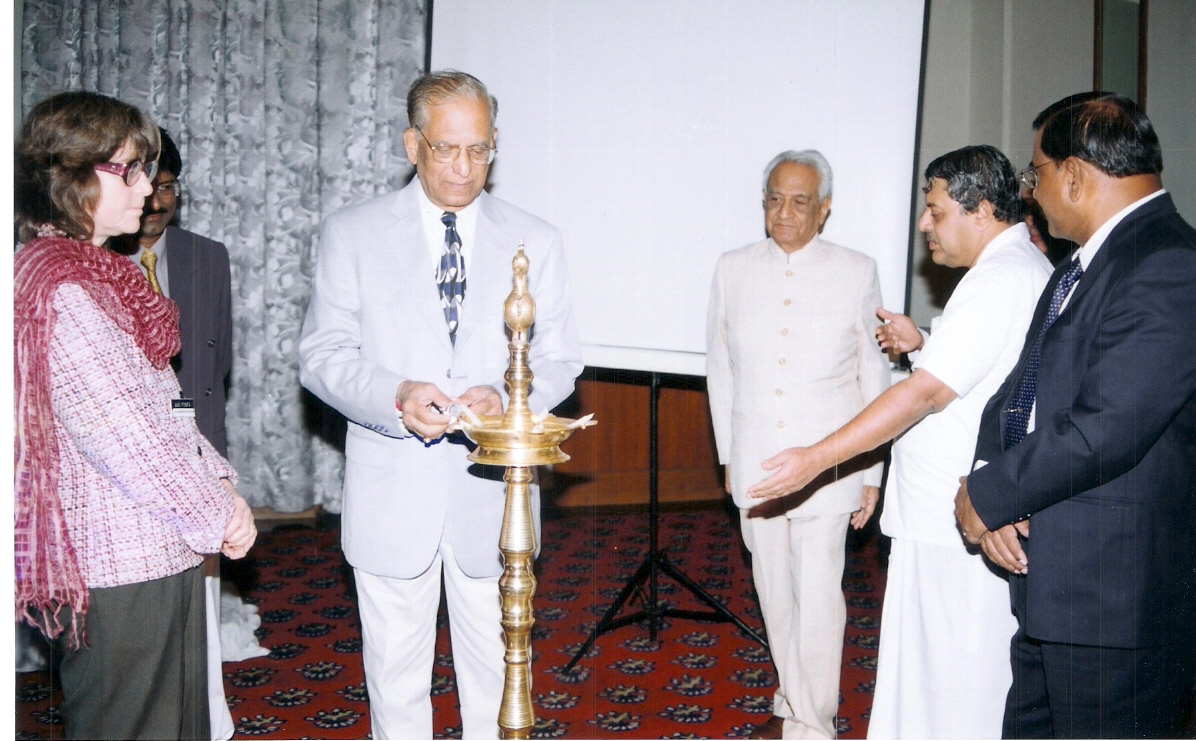 Dr. B. N. Rao
Chairman of the Seminar Committee welcomed all the guests and speakers. In his enlightened address, he highlighted how cancer management has progressed recently with the integration of modern medicine with complementary therapies worldwide, and how many cancer hospitals in advanced countries are using holistic approaches in cancer management.

Dr. I. Sanjeeva Rao in his highly informative address explained how we could prevent metastasis of cancer cells by supplementing a few naturally available proteins in our regular diet, as suggested in the Ayurvedic and herbal treatments.

Chief Guest Dr. H. R. Nagendra, Vice Chancellor Vivekananda Yoga Vidya Peetham Inaugurated the Seminar by lighting the lamp. In his highly thought-provoking and informative address to delegates he opined that the root cause of cancer might not be related to just material/external factors. Psycho neurological factors are most often behind most cancer occurrences, but they can be aggravated by material and other external factors. The whole audience listened to his explanations of Yogic Philosophy with rapt attention.

Mr. D R Garg, IAS, Commissioner, Department of AYUSH, Govt. of AP, addressed the delegates on the importance of both frontline oncologists and complementary/ alternative therapists working together to reduce the problems of cancer patients and contribute to improving their Quality of Life. He released the Souvenir of the 4th Seminar.

Mr. K S Madhavan, the Managing Trustee of the AMC Trust, gave a Vote of Thanks. He highlighted that such Seminars bringing both mainline cancer specialists and the complementary therapists together is quite unique and they have been initiated by AMC Trust over the past few years. A part of the credit for many cancer hospitals accepting complementary therapies shall also go to the dedicated work of the Trust and its doctors and other staff. He thanked the Government of India for recognising the need for such integrative approach and for supporting the work of the Trust by agreeing to bear a part of the cost of the Seminar. He profusely thanked the Department of AYUSH and particularly CCRYN Director Dr. Chidananda Murthy for their support to the Trust's Mission.

Keynote Address by Ms. Ann Fonfa

Prof Kakaa Subba Rao chaired the Keynote Address Session. Mrs. Ann Fonfa, . herself a cancer patient and one of USA's top patient advocates gave the Keynote Address. Her work is well accepted in the US at the level of patients, their well-wishers, political circles as well as among the cancer doctors. She takes care of the legal needs of patients. In her address she talked about her experience in cancer management through complementary therapies. She requested all the doctors to encourage patient to choose any alternate therapy along with conventional therapy to improve efficacy of the treatment.

PLENARY SESSION I

The Plenary Session I was chaired by Dr. M. Babaiah, Professor & Head of the Department, Oncology, Yashoda Institute of Cancer.

* Mr. K. S. Madhavan Managing trust AMC trust Hyderabad presented the new theory on 'Brain Response in Cancer'. It was well received and the oncologists and cancer specialists present agreed that this is a new angle to think about seriously and it may open up new avenues in the treatment of cancer. However, the theory needs to be validated systematically, though the back-up information provided seem to support the theory.
* Dr. D. Raghunath Rao, Professor & Head of the Department, Medical Oncology, Nizam's Institute of Medical Sciences presented a paper on "Clinical Trials in Complementary & Alternate Systems of Medicine."He emphasized on safety of complementary alternative medicine and their effectiveness. He emphasised that supportive care trials, quality-of-life trials, study of ways of making sick people more comfortable and giving cancer patients a better Quality of Life are the most important tasks in front of oncologists.
* Dr. Babaiah, in his summing up highlighted that the Brain Response Theory of Cancer is prima facie well supported by data presented by Mr. Madhavan but needs to be seriously taken up for validation. He requested the cancer specialists to consider the various points highlighted in the theory for the benefit of cancer patients. He agreed with the remarks of Dr. Raghunath Rao and called upon the medical community to focus on this aspect by integrating the mainline therapies with compleliary ones.

PLENARY SESSION II

Dr. Viqar Syed Mehdi Sabeer, CEO, BIBI Cancer Hospitals, Hyderabad chaired plenary Session II.

* Dr. P. Shiva Kumar, Former Director, National Institute of Nutrition, Hyderabad spoke on "Role of Ayurveda, Yoga and Nutrition in Cancer Management." He explained the prevalence, causes, environment and nutritional aspects of cancer. He highlighted physical activity and phytochemical factors altering the process of carcinogenesis.
* Dr. B. T. Chidananda Murthy, Director, Central Council for Research in Yoga & Naturopathy, New Delhi, spoke on "Role of Naturopathy and Yoga in Cancer Management" - the principles of nature cure, yoga and about wheat grass juice for detoxifying the system was also explained.
* Dr Pushpamma, Former Dean, Government College of Home Science, Hyderabad, spoke on "Role of Naturopathy and Yoga in Cancer Management". She highlighted her own experience and the fact that she came out of advanced stage of cancer when the situation was desperate, through use of holistic approach in managing her own disease. She spoke on the role of nutrition in cancer treatment package and nutrientsthat block initial DNA damage. She highlighted how planned nutrition different for different symptoms during cancer treatment can speed up the process of recovery of patients.
* Dr. Viqar summed up the presentations of this session and appreciated the way in which the alternative and complementary systems are assisting mainline cancer treatment to a great extent in improving the Quality of Life of cancer patients and helping in dealing with advanced cases.
PLENARY SESSION III

This session was chaired by Dr. I. Sanjeeva Rao, Managing Director, Varun Herbals Pvt. Ltd. and retired Additional Director of ISM&H & Chairman of Ayurvedic Pharmacopoeia Committee, Dept. of ISM&H, Ministry of Health & Family Welfare, Government of India.

* Dr. Ranjith Singh Solanki, Ayurvedacharya, Indore he spoke on "Remission In a Case of Carcinoma Rectum Treated with Herbal Medicines.". Anti cancer properties of several herbal products like vincristine, paclitaxel, etc., which further strengthen the concept of the presence of several bioactive anti cancer molecules in the plant kingdom was explained. Modern science and approaches to treatment of cancer have to take these information into account for the benefit of cancer patients.
* Dr. Sathyanarayana Dornala M.D. Ayurveda, spoke on "Multifaceted Roleof Rasayana In Cancer Management". He emphasized more on how Ayurveda described cancer management through Rasayana.
* Dr.Perugu Srikanth, presented a successful case study of how his team could improve the Quality of life of a carcinoma lung patient with Ayurvedic therapy.
* Dr. A. M. Mathur, President World Homeopathy Development Organisation, a renowned homoeopath from Gurgaon treating a large number of cancer patients addressed the delegates on the subject "Cancer Cure". He spoke about his new drug for cancer therapy called " Cancer Cure" and highlighted a few successful cases.
* Dr. V. M. Jayapalan, a renowned Siddha practitioner who treats cancer cases both in India and abroad, gave an interesting address in Tamil on the subject "Role of Siddha Medicine in Cancer Management translated by Mr. K. S. Madhavan. He emphasized on the few common herbs that must be used by every cancer patient. He also presented a few of his successful cases treated with Siddha medication. He also requested all the doctors and patients to give importance to relevant nutrition during the treatment.
* Dr. Syed MM. Ameen, a renowned Unani specialist from Chennai has addressed the delegates on the concept of Unani Medicine in the management of Cancer. He highlighted how Unani system of medicine is giving importance to nutrition and exercise in cancer management.
* Dr. H. S. Vadi Raja, from VYASA from Bangalore explained about a research study going on in VYASA regarding breast cancer management.
* Dr. Sanjeeva Rao summed up the proceedings and highlighted the immense potential of systems such as Ayurveda, Homeopathy, Siddha and Unani, not to miss acupuncture and acupressure in the management of cancer - along with yoga and nutrition. It is necessary that the mainline doctors should tap such potential and bring better benefits to cancer patients.
INTERACTIVE & CONCLUDING SESSIONS

The Interactive Session and Concluding session were clubbed together as time was running out and chaired by Mr. Anil Kumar Epur, Director of VST Industries, Hyderabad & Former Chairman, CII Southern Region.

* Dr. P. C. Verma , AMC panel doctor presented two cases being managed successfully by AMC Trust through Homoeopathy and Yoga therapy. Concerned patients also shared their experiences with the delegates.
* Dr. T. Krishna Murthy, AMC Trust panel doctor on Naturopathy presented a successful case of adenocarcinoma of pituitary gland managed through Naturopathy & Yoga.
* Mr. Epur congratulated the AMCT panel doctors on their good work and suggested that all such results should be clinically validated and made available to the public.
* At the end, the panel of speakers and Chairmen of different sessions discussed on the objectives of the Seminar and its future implications for cancer management.
* The Chairman, Mr. Epur called upon the delegates to finalise the Declaration of the Seminar. The finalised version is as follows -

SEMINAR DECLARATION

* The delegates to the seminar note the benefits of holistic management of cancer combining the best of both modern medicine and the complementary therapies.
* We strongly suggest that all treatment of cancer should include yoga therapy and nutrition as adjuvant therapies along with any other type of treatment that the patient may choose to receive under the guidance of the doctor.
* Validation of complementary therapies should be taken up as per standardised protocols and procedures acceptable to world community.
* There is an urgent need to look into the preventive aspects of cancer, ("Prevention is better than cure!") through education and awareness building both in urban and rural areas.
* A process of Peer Review and Documentation should back up the successful cases of treatment of cancer using complementary/ alternative therapies.
* Such seminars should be more frequent and should be taken to various parts of the country, right up to the district level, so that the doctors there are aware of the benefits of combining standard treatments with complementary therapies.
* There must be wide publicity given to carcinogenic food items and items of general use such as plastics.
* There is a need for researchers to work in the field of "Why Cancer?" based on the inputs available in the presentations made in this seminar.
* There should be incentives to tobacco cultivators to shift to organic horticulture.

The Seminar ended with a Vote of Thanks from Mr. Pradeep Mittal, MD of Magna Infotech and an active Member of the Board of Trustees of AMCT.
The Trust is not responsible for the claims and statements made by various speakers